In this issue…
Open A Obedience Ratings ~ Compiled by Dave Pluth
Biscuits & Bones ~ By the Numbers: AKC Obedience & Rally ~ Bob Self Jr.
Course Practice ~ Continuing to Rally Intermediate 2 ~ Beatrice Moore
Canine Health Alert ~ Canine Dysautonomia
Away From The Doghouse ~ Happy New Year ~ Glenna MacLeod
Random Little Tidbits ~ Highlighted PDF File – 2022 Obedience Regulations ~ John Cox
Reading About Dogs ~ The Forever Dog: Surprising New Science To Help Your Canine Companion Live Younger, Healthier & Longer ~ Elizabeth Raba
A Common Bond ~ Changes ~ Deborah Neufeld
Recognition ~ Linda MacDonald
In this issue…
Top 100 OTCH Dogs of All Time ~ F&F Ratings
FFX Awards ~ Bob Self Jr.
Course Practice ~ Advanced Rally Cone Challenges ~ Beatrice Moore
Most Popular Breeds ~ Sadie Cornelius
Away From The Doghouse ~ What The Other Teams Are Doing… ~ Glenna MacLeod
Comparing Judges' Maps For First Five Rally Master Shows ~ Marilyn Miller
Catch Them Being Good, Leave Them Wanting More ~ Suzanne Nelson
From The August AKC Gazette Secretary's Page ~ John Cox
A Common Bond ~ Sportsmanship ~ Deborah Neufeld
In this issue…
  Willard Bailey Feature… The Nonagenarian World Of Helen Phillips: In Her Own Words
2022 Rally Novice Ratings
2022 Novice A & B Obedience Ratings
The Nonagenarian World Of Helen Phillips: In Her Own Words ~ Willard Bailey
Course Practice ~ Continuing Intro to Rally Intermediate 3 ~ Beatrice Moore
Away From The Doghouse ~ Room With More Than A View ~ Glenna MacLeod
Doggedly Obedient ~ A Question on Cones & Pylons in Rally ~ Marilyn Miller
Random Little Tidbits ~ What to Expect From An Obedience/Rally Judge ~ John Cox
Biscuits & Bones ~ More About The FFX ~ Bob Self Jr.
FFX Award Announcements
In this issue…
2022 Rally Combined Ratings
A Common Bond ~ Better Safe, Than Sorry ~ Deborah Neufeld
Course Practice ~ Advanced Rally Cone Challenges ~ Beatrice Moore
Away From The Doghouse ~ Special; Practice Time ~ Glenna MacLeod
Doggedly Obedient ~ Bad Weather Is Never A Good Omen ~ Marilyn Miller
Random Little Tidbits ~ "Visual" Jump Chart Added To Existing Chart ~ John Cox
Biscuits & Bones ~ April Fools Pranks For Your Dog ~ Bob Self Jr.
FFX Award Announcement
In this issue…
2022 Delaney Obedience Ratings
Biscuits & Bones ~ Sportsmanship ~ Bob Self Jr.
A Common Bond ~ Socialization, A Continuing Saga ~ Deborah Neufeld
A Foray ~ Sit & Stay Exercise ~ Janice Gunn
Course Practice ~ Continuing Intro to Rally Intermediate 4 ~ Beatrice Moore
Away From The Doghouse ~ First Trial of the Season ~ Glenna MacLeod
Doggedly Obedient ~ Watch Me ~ Marilyn Miller
Random Little Tidbits ~ Beginner Novice Excellent (BNX) ~ John Cox
FFX Award Announcements

      Kara Hamilton & Gabby
      Bea Moore & Jason
      Lorraine Frendling & Jack
      Maggie Pogue & Spice
      Norbert Kowal & Junior
      Susan Jenkins & Tuxie
      Sarah Blumenfeld & Charlie
      Sarah Blumenfeld & Lilac
      Sarah Blumenfeld & Solo
      Sarah Blumenfeld & Gauge
      Linda Houle & Missy
In this issue…
2022 Rally Masters Ratings
Biscuits & Bones ~ Preparation ~ Bob Self Jr.
Confessions of an Obedience Junkie ~ Two Old Ladies Pursue An Obedience Trial Championship (OTCH) ~ Laurie Lo
A Common Bond ~ Your Entry Fee – What Does It Buy? ~ Deborah Neufeld
Reading About Dogs ~ Joy Of Heeling: Building Confidence,Enthusiasm, and Precision Though Game ~ Elizabeth Raba
A Foray ~ One on the down… ~ Janice Gunn
Obituary ~ Kathleen N. Sutliff
Course Practice ~ Advanced Rally Cone Challenges ~ Bea Moore
Away From The Doghouse ~ The Changes in Dazzle ~ Glenna MacLeod
Doggedly Obedient ~ Over The Hump ~ Marilyn Miller
Random Little Tidbits ~ Timing Is Of The Essence When Giving Judge's Orders ~ John Cox
FFX Award Announcements
Norbert Kowal & Junior
Sharon and David Hazeza & Londonn
Traci Rinoldo & Trix 
In this issue…
2022 First & Foremost Ratings
Biscuits & Bones ~ Jim Ham ~ Bob Self Jr.
It's The Process – Stupid ~ Willard Bailey
Course Practice ~ Continuing Intro to Rally Intermediate – 5 ~ Bea Moore
A Foray ~ Engagement Skills With Puppy ~ Janice Gunn
Away From The Doghouse ~ Supportive Friends Make All The Difference ~ Glenna MacLeod
Random Little Tidbits ~ Judges Need To Ask Themselves – Are YOU Ready? ~ John Cox
A Common Bond ~ Non-Regular Classes ~ Deborah Neufeld
In this issue…
Ratings ~ The Paragons of Rally
Biscuits & Bones ~ Rewards of Judging ~ Bob Self Jr.
Lance & Dick And The Sounds Of Sunrise ~ Willard Bailey
Kori Bevis & NOC2 Triple Crown Baker
Course Practice ~ Advanced Rally Challenges – 17 ~ Bea Moore
A Common Bond ~ Veterinary Chiropractic, Acupuncture and Complimentary ~ Deborah Neufeld
Groundbreaking Study to Evaluate Potential Treatment for Degenerative Myelopathy ~ AKC Canine Health Foundation Funds
Away From The Doghouse ~ Changes Making The Same Old Things Better ~ Glenna MacLeod
A Foray ~ Exercise for Rear End Awareness Competition Obedience ~ Janice Gunn
Doggedly Obedient ~ Returning To Nose Work ~ Marilyn Miller
Random Little Tidbits ~ Know When Applicable Penalties Apply Beyond An Exercise's Scoring Section ~ John Cox
In this issue…
2022 Open A Obedience Ratings
2023 Rally National Championship ~ Dee Dee Anderson
Judging The Rally National ~ Dee Dee Anderson
Continuing Into to Rally Intermediate 6 ~ Bea Moore
A Common Bond ~ Puppy, Puppy, Who Has A New Puppy?  I Do! ~ Deborah Neufeld
Away From the Doghouse ~ It Doesn't Get Better Than A Dog Show In Bermuda! ~ Glenna MacLeod
A Foray ~ Drop On Recall ~ Janice Gunn
Doggedly Obedient ~ Continuing With Nose Work Classes ~ Marilyn Miller
Paws of Compassion ~ Assisting Dogs In Ukraine
Random Little Tidbits ~ Judging Resources – A Simple Click Away ~ John Cox
Biscuits & Bones ~ Become an Obedience Judge ~ Bob Self Jr.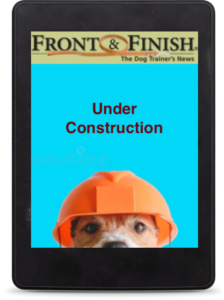 October Issue
PDF Format
In this issue…
F&F October Issue.  Don't be a spook and scare your dog!  Our goblins have a good issue coming for you!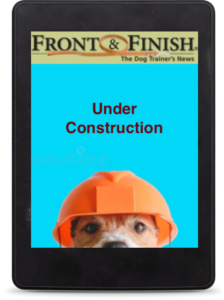 November Issue
PDF Format
In this issue…
F&F November Issue.  Don't be a turkey… You're a dog trainer!  Your F&F is on the way!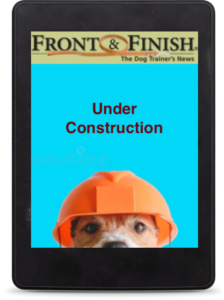 December Issue
PDF Format
In this issue…
F&F December Issue.  Another year coming to a close…  Another dozen issues…  It goes so fast but a fresh start is just around the corner.  May your holidays be blessed and your future bright!  We'll have your issue out soon!